Artist Statement - Awards, Shows & Publications
Upcoming Exhibits, Art Festivals & Demonstrations
Links - Gallery, Art Association and Others
BASIC ENCAUSTIC WORKSHOP - 2-1/2 Days
BASIC ENCAUSTIC WORKSHOP - 2-1/2 Days
$90.00
Workshop Dates:
9/28/2012 - 9/30/2012
Location:
My Studio, Harrisburg, PA
600 Yale Street, Unit 301
Harrisburg
Pennsylvania
17111
United States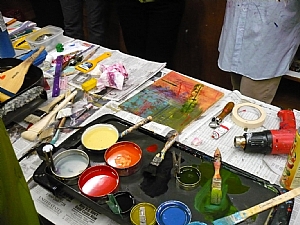 FUN WORKSHOP! You will learn all the basic encaustic painting techniques such as layering, fusing, texture, line, scratching back, stamping, stenciling, transfers, etc. ALL SUPPLIES WILL BE FURNISHED EXCEPT FOR YOUR OIL PAINTS AND PAPER TOWELS. A supply fee of $50.00 is payable on 1st day to cover all other supplies - electrical pots and palette, brushes, beeswax, resin, torches, heat guns, supports (substrates) and misc. tools. The workshop will be held at my studio at 600 Yale Street, Unit 301, Harrisuburg, PA 17111. Be sure to bring lunch. Any questions - please call me at 771-564-4674 or email at mccloskeyart@comcast.net.