Encaustic Workshop, Encaustic Artist, Howard County Art Guild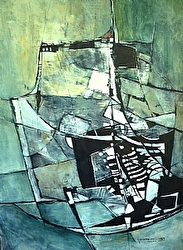 "Rock-A-Bye" - my newest painting. This piece was actually started at one of my experimental classes - it was the demo of the week - I finished it later at home. It reminds me of Noah's Arc, with all the compartments for the animals. I know, I know - I have a vivid imagination! The colors are many shades of green, with highlights of yellow, white and black. I really enjoyed creating this contemporary piece, especially since it is smaller than my other recent pieces.

This is a very busy time of the year for me - I'm off tomorrow to the Bethlehem Arts Festival. It is being held this weekend (Mother's Day weekend) in Bethlehem, PA. If you are in the area, please stop by. Also, the following week - I'll be teaching an encaustic workshop at the Art Center in Mechanicsburg, PA. The the first week of June, we'll be off to Michigan for the ISEA (International Society of Experimental Artists) annual conference and exhibit where I'll be demonstrating encaustic techniques. Plus, I'll be teaching my regular weekly classes - I hope I can get through all this!

Comment on or Share this Article >>