Wow, I haven't posted for awhile. I've just been too busy and I have so much to post. At least I'll try to catch up on a few things. I've been very successful with selling paintings. The economy is definitely getting better! During my past two street art festivals - Bethlehem, PA and Harrisburg, PA - I sold a total of 11 large original paintings and also a few smaller paintings. I have been overwhelmed with the fantastic comments about my work. I also completed a commission recently (Timeless).
Some national and international shows that I have been accepted to exhibit are:
1 - PWS (PA Watercolor Society) - "
Wonderland
" - water media (opens in August)
2 - ISEA (International Society of Experimental Artists) - "
Red Square
" - encaustic (opens in Sept)
3 - Watercolor USA 2009 (Springfield Art Museum, Springfield, MO) - "
All Things Remembered
" - water media
4 - VMRC (Harrisonburg, VA) - "
Spectator
" - encaustic
5 - A Fine Line (Center for the Creative Arts in Fredericsburg, VA) - "
Green Squared
" - encaustic
6 - Lancaster County National Juried Art Show - "
Earth Matters
" - encaustic.
So far, I have won 2 awards - in the national show in Lancaster, I won 3rd place for Earth Matters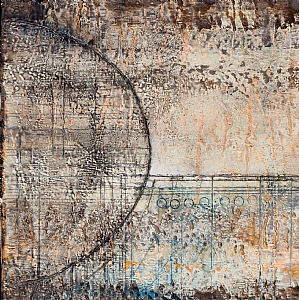 and the the regional show at York County Art Association's annual abstract show, I took 2nd place for one of my newest pieces "Revelation" -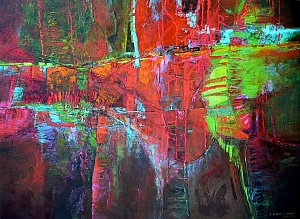 And I just received word today that my piece at the Watercolor USA 2009 exhibit at the Springfield Art Museum in Springfield, MO sold to a patron of the museum!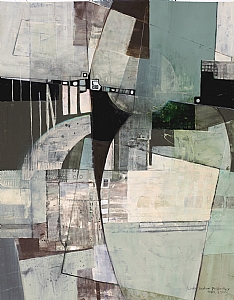 I'm packing up the van today - headed for Philadelphia tomorrow for the Manayunk (Phila) Art Festival that is being held on Saturday (11-8) and Sunday (10-5) on the main street in Manayunk. If you are in the area, please stop by.
Other
BIG NEWS
! I just started painting in my new "Art Studio & Galley" at the Mechanicsburg Art Center in Mechanicsburg, PA. Now that I have committed myself for the rental of a studio, I've been painting even more. Next week, I'll post some photos of my (ever so humble) studio - it's small, but it's mine. Till Next Week ...