Encaustic Workshop, Encaustic Artist, Howard County Art Guild
I just wanted to share last night's encaustic demonstration at the Howard County Arts Guild in Elliott City, just outside of Baltimore, Maryland.

First of all let me say - what a beautiful facility! The guild is actually housed at the Howard County Center of the Arts which was founded in 1993 as a non-profit, volunteer organization that promotes art education and appreciation in the local community. Not only do they have a grant program, but many adult and children classes and workshops are held in visual art, theater, music and ballet plus other specialized workshops and summer camp programs. It also houses two galleries. I know everyone who lives in the region realizes what a gem they have in the Center! The building itself is a renovated former elementary school building. What a wonderful use of a building that would normally have been demolished.

I have included several photographs of the encaustic demonstration. My host, Cher Compton, President of the Guild, could not have been more welcoming or gracious. All who attended left with a new appreciation of the encaustic medium. Such excitement and enthusiasm! If you haven't observed an encaustic demonstration, you are missing out. Never have I used a medium that is so receptive to all other mediums - dry pigment, pastel (both dry and oil), watercolor, charcoal, oil, collage and mixed media. There was so much excitement about the encaustic process that the Guild plans to sponsor an encaustic workshop this coming September or October. Some photos are below.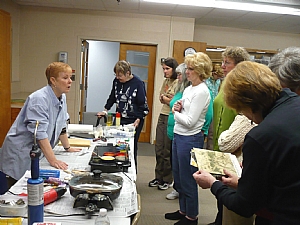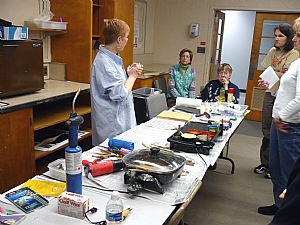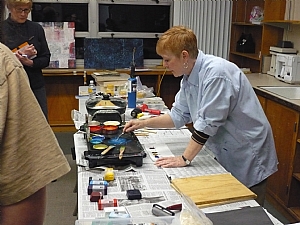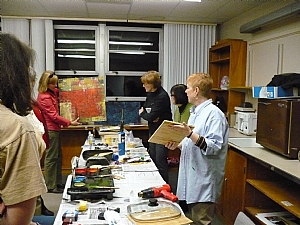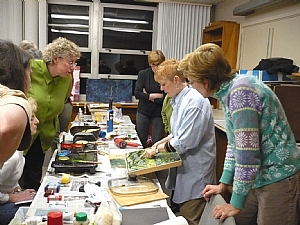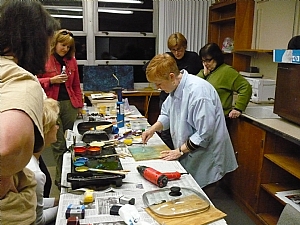 Comment on or Share this Article >>
I was contacted by MMCA (Mixed Media Collage Artists) for an online interview. You can view this interview at http:mmcamarketplace.typepad.com/mmca_marketplace/2009/02/index.html.

This past weekend I taught a 2-˝ day encaustic workshop sponsored by the Art Association of Harrisburg. The weather was good to us - it was warm and the winds were calm. With encaustic it's imperative to keep the doors and windows open for ventilation. I contacted all my students asking them to dress warmly since it was the beginning of March and anything weather-wise was possible….but the good Lord was smiling down on us and the weather turned out to be beautiful. Some wonderful pieces were created!

Since I have a break from teaching (my next classes start in April) it's time to clean and organize my home studio (which is an upstairs converted bedroom). It amazes me how quickly I can completely lose control of my area! It looks like a hurricane went through it. (A complaint from most artists I might add) One of my main problems is lack of space. Since my love of many mediums exist (watercolor, acrylic, oil, pastel, encaustic, collage), I simply have "too much stuff". I am in the process of looking for a larger studio outside my home. However, my search is proving to be difficult. I long for a building here in my local area to house artists such as the Banana Factory in Bethlehem. Anyway, I plan to work on my studio and reorganize AGAIN for the next few days. So wish me luck. Till next time …
Comment on or Share this Article >>