Artist Statement - Awards, Shows & Publications
Upcoming Exhibits, Art Festivals & Demonstrations
Links - Gallery, Art Association and Others
Encaustic Workshop, Encaustic Artist, Howard County Art Guild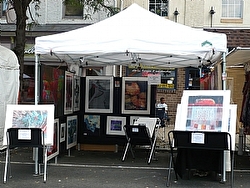 Summer - time has gotten away from me. Like other artists, I've been busy over this past summer. My art festivals were very successful - exhibited at Bethlehem, PA / Harrisburg, PA / Manayunk (Philadelphia), PA / and Lititz, PA. They alone kept me on my toes trying to coordinate framing, pricing, booth set-up, etc., not counting the tear-down and putting away. Art festivals are a lot of work. Anyone going into them should do so with open eyes. I have one more for the season - Kennett Square, PA which is a near Philadelphia. It's one of my biggest shows of the season, and I always enjoy being here. I have a couple of photos from the art festivals above (Manayunk) and below (Bethlehem).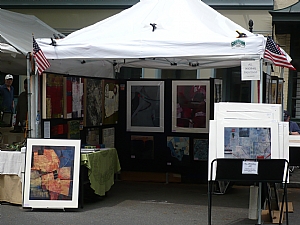 Other things that have been going on is teaching an experimental mixed media workshop at the Mechanicsburg Art Center. It was a busy week of teaching and learning from each other. Those who attended went home with several finished paintings. Also, I attended 2 WONDERFUL workshops myself - even if you are a teacher as I, you NEVER stop learning! The first workshop I attended was with Bob Burridge at Cheap Joe's in Boone, NC. I can't say enough about Bob. Not only does he keep you laughing, but he's a wonderful teacher and I thoroughly enjoyed my week immensely with him. The second one was with Pat Dews, again in Boone. Actually, it was my second workshop with Pat. I credit her with my journey to abstraction. I always painted realistically, until Pat's first workshop several years ago - her first workshop took me into a completely different style. I decided to take her again since many of my friends from "Springmaid" were going to be there and we had a great time painting together and visiting one another. Pat has become a friend. It always amazes me to think of all the artist friends I have made over the years - from Florida to Maine and everywhere in between. I always miss them on my return to home.

Plus, I have been painting to my heart's content! I will post some of them soon - they have to be photographed. Other news, I have been selected to exhibit in a new gallery opening here in Harrisburg, "Sparma". The grand opening will be early September, and I'll, hopefully, post some of those photos as well. Talk to you soon!
Tuesday, August 25, 2009